');--success-svg-icon:url('data:image/svg+xml;utf8,');--info-svg-icon:url('data:image/svg+xml;utf8,');--chevron-svg-icon:url('data:image/svg+xml;utf8,');--checkbox-svg-icon:url('data:image/svg+xml;utf8,');--radiobutton-svg-icon:url('data:image/svg+xml;utf8,');--show-password-svg-icon:url('data:image/svg+xml;utf8,');--hide-password-svg-icon:url('data:image/svg+xml;utf8,');--error-svg-icon-color:var(--red-500);--success-svg-icon-color:var(--emerald-700);--info-svg-icon-color:var(--sky-500);--chevron-svg-icon-color:var(--grey-900);--checkbox-svg-icon-color:var(--grey-900);--radiobutton-svg-icon-color:var(--grey-900);--show-password-svg-icon-color:var(--grey-900);--hide-password-svg-icon-color:var(--grey-900);--bde-woo-notices__icon-size:16px;--bde-woo-notices__padding:24px;--bde-woo-notices__border-radius:4px;--bde-woo-notices__error-background:var(--red-50);--bde-woo-notices__error-text:var(--red-500);--bde-woo-notices__error-link-text:var(--red-500);--bde-woo-notices__error-link-text-hover:var(--red-500);--bde-woo-notices__info-background:var(--sky-100);--bde-woo-notices__info-text:var(--sky-500);--bde-woo-notices__info-link-text:var(--sky-500);--bde-woo-notices__info-link-text-hover:var(--sky-500);--bde-woo-notices__success-background:var(--emerald-100);--bde-woo-notices__success-text:var(--emerald-700);--bde-woo-notices__success-link-text:var(--emerald-700);--bde-woo-notices__success-link-text-hover:var(--emerald-700);--bde-woo-sale-badge__border-radius:2px;--bde-woo-sale-badge__padding:4px 8px;--bde-woo-ratings__star-color:var(--yellow-500);--bde-woo-ratings__star-size:18px;--bde-woo-ratings__filled-star-svg:url('data:image/svg+xml;utf8,');--bde-woo-ratings__empty-star-svg:url('data:image/svg+xml;utf8,');--bde-woo-product-images__border-radius:4px;--bde-woo-product-images__border-width:0px;--bde-woo-product-images__border-color:var(--grey-300);--bde-woo-wrappers__background-color:var(--white);--bde-woo-wrappers__border-radius:4px;--bde-woo-wrappers__border-color:var(--grey-300);--bde-woo-wrappers__border-width:1px;--bde-woo-wrappers__shadow:rgba(0,0,0,.05) 0 1px 3px,rgba(0,0,0,.05) 0 1px 2px;--bde-woo-tables__header-color:var(--grey-100);--bde-woo-tables__background-color:var(--white);--bde-woo-tables__border-radius:4px;--bde-woo-tables__border-width:1px;--bde-woo-widgets__chip-background-color:transparent;--bde-woo-widgets__chip-background-color-hover:var(--indigo-50);--bde-woo-widgets__chip-text-color:inherit;--bde-woo-widgets__handle-border-color:var(--grey-300);--bde-woo-widgets__handle-background-color:var(--white);--bde-woo-widgets__handle-background-color-hover:var(--white);--bde-woo-widgets__handle-shadow:rgba(0,0,0,.05) 0 1px 3px,rgba(0,0,0,.05) 0 1px 2px;--bde-woo-widgets__handle-shadow-hover:var(--grey-300) 0 0 4px;--bde-woo-widgets__remove-item-from-cart-color:var(--grey-450);--bde-woo-select2__active-item-background-color:var(--indigo-50);--bde-woo-gallery__zoom-icon-shadow:rgba(0,0,0,.05) 0 1px 3px,rgba(0,0,0,.05) 0 1px 2px;--bde-woo-payment-box-background-color:var(--grey-100);--bde-woo-payment-box-border-color:var(--grey-200);--bde-woo-payment-box-border-width:1px;--bde-woo-quicklook-button-icon:url(/wp-content/uploads/breakdance/css/icons/eye.svg);--bde-woo-quicklook-button-background-color:none;--bde-woo-quicklook-button-icon-size:20px;--bde-woo-quicklook-button-backdrop-color:rgba(0,0,0,.15);--bde-woo-quicklook-button-backdrop-opacity:.7;--bde-woo-quicklook-modal-background-color:var(--white);--bde-woo-quicklook-overlay-color:rgba(0,0,0,.7);--bde-woo-quicklook-close-button-size:2em;--bde-woo-quicklook-arrow-size:1em;--bde-woo-quicklook-arrow-color:var(--white);--bde-woo-swatch-space-between-options:10px;--bde-woo-swatch-padding:7px;--bde-woo-swatch-color-width:30px;--bde-woo-swatch-color-height:30px;--bde-woo-swatch-border:1px solid var(--grey-200);--bde-woo-swatch-border-color-hover:var(--grey-400);--bde-woo-swatch-shadow:none;--bde-woo-swatch-shadow-hover:none;--bde-woo-swatch-background:var(--white);--bde-woo-swatch-background-hover:var(--grey-50);--bde-woo-swatch-color-padding:2px;--bde-woo-swatch-tooltip-color:var(--white);--bde-woo-swatch-tooltip-background:var(--grey-900);--bde-woo-swatch-tooltip-padding:7px;--bde-woo-swatch-space-after-label:8px;--bde-woo-responsive__stack:row}:root{--bde-links-color:#012e5f;--bde-links-color-hover:#012e5f;--bde-button-primary-background-color:var(--bde-brand-primary-color);--bde-button-primary-background-color-hover:var(--bde-brand-primary-color-hover);--bde-button-secondary-border-color:var(--bde-brand-primary-color);--bde-button-secondary-border-color-hover:var(--bde-brand-primary-color);--bde-button-secondary-text-color:var(--bde-brand-primary-color);--bde-button-secondary-background-color-hover:var(--bde-brand-primary-color);--bde-button-text-text-color:var(--bde-links-color);--bde-button-text-text-color-hover:var(--bde-links-color-hover);--bde-button-font-size:var(--bde-body-font-size);--bde-form-font-size:var(--bde-body-font-size);--bde-form-input-border-top-left-radius:var(--bde-form-input-border-radius);--bde-form-input-border-top-right-radius:var(--bde-form-input-border-radius);--bde-form-input-border-bottom-left-radius:var(--bde-form-input-border-radius);--bde-form-input-border-bottom-right-radius:var(--bde-form-input-border-radius);--bde-form-input-border-top:var(--bde-form-input-border-width) solid var(--bde-form-input-border-color);--bde-form-input-border-right:var(--bde-form-input-border-width) solid var(--bde-form-input-border-color);--bde-form-input-border-bottom:var(--bde-form-input-border-width) solid var(--bde-form-input-border-color);--bde-form-input-border-left:var(--bde-form-input-border-width) solid var(--bde-form-input-border-color);--bde-form-label-color:var(--bde-headings-color);--bde-form-input-focused-border-color:var(--bde-brand-primary-color);--bde-form-input-focused-shadow:var(--bde-brand-primary-color) 0 0 2px;--bde-form-checkbox-selected-color:var(--bde-brand-primary-color);--bde-z-index-lightbox:1100;--bde-z-index-popup:1050;--bde-z-index-modal:1000;--bde-z-index-modal-backdrop:calc(var(--bde-z-index-modal) - 1);--bde-z-index-high:300;--bde-z-index-medium:200;--bde-z-index-low:100;--bde-z-index-sticky:10;--bde-z-index-minicart:var(--bde-z-index-modal);--bde-z-index-minicart-backdrop:var(--bde-z-index-modal-backdrop);--bde-z-index-menu-dropdown:var(--bde-z-index-modal);--bde-z-index-menu-mobile:var(--bde-z-index-modal);--bde-z-index-menu-backdrop:var(--bde-z-index-modal-backdrop);--bde-z-index-search-fullscreen:var(--bde-z-index-modal);--bde-z-index-back-to-top:var(--bde-z-index-high);--bde-z-index-scroll-progress:var(--bde-z-index-high);--bde-z-index-header-sticky:var(--bde-z-index-medium);--bde-z-index-header-overlay:calc(var(--bde-z-index-header-sticky) - 1);--bde-z-index-social-share-buttons:var(--bde-z-index-low);--bde-woo-base-text-color:var(--bde-body-text-color);--bde-woo-base-headings-color:var(--bde-headings-color);--bde-woo-base-primary-color:var(--bde-brand-primary-color);--bde-woo-base-primary-color-hover:var(--bde-brand-primary-color-hover);--bde-woo-base-extra-small-gaps:calc(var(--bde-woo-base-small-gaps)/var(--bde-woo-base-ratio));--bde-woo-base-small-gaps:calc(var(--bde-woo-base-space)/var(--bde-woo-base-ratio));--bde-woo-base-standard-gaps:var(--bde-woo-base-space);--bde-woo-base-medium-gaps:calc(var(--bde-woo-base-space)*var(--bde-woo-base-ratio));--bde-woo-base-big-gaps:calc(var(--bde-woo-base-medium-gaps)*var(--bde-woo-base-ratio));--bde-woo-base-large-gaps:calc(var(--bde-woo-base-big-gaps)*var(--bde-woo-base-ratio));--bde-woo-base-extra-large-gaps:calc(var(--bde-woo-base-large-gaps)*var(--bde-woo-base-ratio));--bde-woo-typography-ratio:var(--bde-font-size-ratio);--bde-woo-typography__size-small:calc(var(--bde-woo-typography__size-standard)/var(--bde-woo-typography-ratio));--bde-woo-typography__size-small-font-family:var(--bde-body-font-family);--bde-woo-typography__size-standard:var(--bde-body-font-size);--bde-woo-typography__size-standard-font-family:var(--bde-body-font-family);--bde-woo-typography__size-medium:calc(var(--bde-woo-typography__size-standard)*var(--bde-woo-typography-ratio));--bde-woo-typography__size-medium-font-family:var(--bde-heading-font-family);--bde-woo-typography__size-large:calc(var(--bde-woo-typography__size-medium)*var(--bde-woo-typography-ratio));--bde-woo-typography__size-large-font-family:var(--bde-heading-font-family);--bde-woo-typography__size-extra-large:calc(var(--bde-woo-typography__size-large)*var(--bde-woo-typography-ratio));--bde-woo-typography__size-extra-large-font-family:var(--bde-heading-font-family);--bde-woo-buttons-and-links__text-link-color:var(--bde-woo-base-primary-color);--bde-woo-buttons-and-links__text-link-color-hover:var(--bde-woo-base-primary-color-hover);--bde-woo-buttons-and-links__nav-link-color:var(--bde-woo-base-text-color);--bde-woo-buttons-and-links__nav-link-color-hover:var(--bde-woo-base-text-on-primary-color);--bde-woo-buttons-and-links__nav-link-color-active:var(--bde-woo-base-primary-color);--bde-woo-forms__spacing-after-label:var(--bde-form-after-label);--bde-woo-forms__spacing-between-fields:var(--bde-form-gap);--bde-woo-forms__spacing-between-columns:var(--bde-woo-base-extra-large-gaps);--bde-woo-forms__labels-color:var(--bde-form-label-color);--bde-woo-forms__inputs-background-color:var(--bde-form-input-background-color);--bde-woo-forms__inputs-text-color:var(--bde-form-text-color);--bde-woo-forms__inputs-placeholder-color:var(--bde-form-input-placeholder-color);--bde-woo-forms__inputs-border-color:var(--bde-form-input-border-color);--bde-woo-forms__inputs-border-width:var(--bde-form-input-border-width);--bde-woo-forms__inputs-border-radius:var(--bde-form-input-border-top-left-radius) var(--bde-form-input-border-top-right-radius) var(--bde-form-input-border-bottom-right-radius) var(--bde-form-input-border-bottom-left-radius);--bde-woo-forms__inputs-background-color-focused:var(--bde-form-input-focused-background-color);--bde-woo-forms__inputs-border-color-focused:var(--bde-form-input-focused-border-color);--bde-woo-forms__inputs-shadow-focused:var(--bde-form-input-focused-shadow);--bde-woo-forms__inputs-shadow:var(--bde-form-input-input-shadow);--bde-woo-forms__inputs-select2-hover-item:var(--bde-woo-base-primary-color);--bde-woo-forms__labels-required-color:var(--bde-form-label-required-color);--bde-woo-forms__labels-required-size:var(--bde-form-label-required-size);--bde-woo-forms__labels-required-nudge-x:var(--bde-form-label-required-nudge-x);--bde-woo-forms__labels-required-nudge-y:var(--bde-form-label-required-nudge-y);--bde-woo-tables__border-color:var(--bde-woo-base-border-color);--bde-woo-sale-badge__background-color:var(--bde-woo-base-primary-color);--bde-woo-sale-badge__text-color:var(--bde-woo-base-text-on-primary-color);--bde-woo-sale-badge__font-weight:var(--bde-woo-typography-font-weight-heavy);--bde-woo-sale-badge__font-size:var(--bde-woo-typography__size-standard);--bde-woo-widgets__chip-text-color-hover:var(--bde-woo-buttons-and-links__text-link-color);--bde-woo-widgets__handle-border-color-hover:var(--bde-woo-base-primary-color);--bde-woo-notices__padding-left:calc(var(--bde-woo-notices__padding) + var(--bde-woo-notices__icon-size) + (var(--bde-woo-notices__icon-size)/2));--bde-woo-quicklook-button-text-color:var(--bde-button-primary-text-color);--bde-woo-quicklook-button-background-color-hover:var(--bde-woo-quicklook-button-background-color);--bde-woo-quicklook-button-icon-spacing:var(--bde-woo-base-standard-gaps);--bde-woo-quicklook-close-button-color:var(--bde-woo-base-headings-color);--bde-woo-quicklook-arrow-color-hover:var(--bde-woo-quicklook-arrow-color);--bde-woo-quicklook-arrow-background-color:var(--bde-brand-primary-color);--bde-woo-quicklook-arrow-background-color-hover:var(--bde-woo-quicklook-arrow-background-color);--bde-woo-swatch-space-between-items:var(--bde-woo-base-medium-gaps);--bde-woo-swatch-background-selected:var(--bde-woo-swatch-background-hover);--bde-woo-swatch-border-color-selected:var(--bde-woo-swatch-border-color-hover);--bde-woo-swatch-shadow-selected:var(--bde-woo-swatch-shadow-hover);--bde-woo-swatch-color-background:var(--bde-woo-swatch-background)}.breakdance .button-atom{display:inline-flex;align-items:center;justify-content:center;vertical-align:middle;appearance:none;box-sizing:border-box;margin:0;border:0;padding:0;background-color:transparent;font-size:var(--bde-button-font-size);line-height:var(--bde-button-line-height);transform:translate(0,0);max-width:100%;width:var(--bde-button-width)}.breakdance .button-atom--text{color:var(--bde-button-text-text-color)}.breakdance-icon-atom{display:flex;font-size:40px}.breakdance-icon-atom>svg:not(.breakdance-icon-atom-svg-gradient){font-size:inherit;width:1em;height:1em;stroke-width:0;stroke:var(--bde-brand-primary-color);fill:var(--bde-brand-primary-color);transform:var(--eeiTransform)}.breakdance *,.breakdance *:before,.breakdance *:after{box-sizing:border-box}.breakdance img{max-width:100%;height:auto}.breakdance figure{width:100%;margin-left:0;margin-right:0}.breakdance-rich-text-styles>*:first-child{margin-top:0}.breakdance{background-color:var(--bde-background-color);color:var(--bde-body-text-color)}.breakdance h1{color:var(--bde-headings-color)}.breakdance a,.button-atom--text{color:var(--bde-links-color)}.breakdance{font-family:var(--bde-body-font-family);font-size:var(--bde-body-font-size)}.breakdance h1{font-family:var(--bde-heading-font-family)}.breakdance h1{font-size:var(--bde-h1-font-size)}.breakdance a,.breakdance .button-atom--text{color:#012e5f}:root{--preset-id-4049eb4c-514a-4a3a-bade-3c3d9431f9d9-font-family:"Cinzel",serif;--preset-id-4049eb4c-514a-4a3a-bade-3c3d9431f9d9-font-size:50px;--preset-id-4049eb4c-514a-4a3a-bade-3c3d9431f9d9-font-weight:600;--preset-id-f9485982-ef43-44f7-b3a1-a06ffe3e0cee-font-family:"Lato",sans-serif;--preset-id-f9485982-ef43-44f7-b3a1-a06ffe3e0cee-font-size:23px;--preset-id-c21744c3-c0bb-4057-926e-8305bd168d44-font-family:"IM Fell Great Primer SC",serif;--preset-id-c21744c3-c0bb-4057-926e-8305bd168d44-font-size:40px;--preset-id-ed0e328a-6c8b-4895-82a5-a501b5f8e80b-font-family:"Cinzel",serif;--preset-id-ed0e328a-6c8b-4895-82a5-a501b5f8e80b-font-size:75px;--preset-id-ed0e328a-6c8b-4895-82a5-a501b5f8e80b-font-weight:600;--preset-id-8d71e945-58f0-42e5-a128-38677fa91d7f-font-family:"Cinzel",serif;--preset-id-8d71e945-58f0-42e5-a128-38677fa91d7f-font-size:25px;--preset-id-8d71e945-58f0-42e5-a128-38677fa91d7f-font-weight:600;--preset-id-deea1899-d459-4b37-8e0f-df596501c821-font-family:"Cinzel",serif;--preset-id-deea1899-d459-4b37-8e0f-df596501c821-font-size:6vw;--preset-id-deea1899-d459-4b37-8e0f-df596501c821-font-weight:600;--preset-id-f5437d72-412b-4d2f-9ff9-795453b0cb31-font-family:"Cinzel",serif;--preset-id-f5437d72-412b-4d2f-9ff9-795453b0cb31-font-size:28px;--preset-id-f5437d72-412b-4d2f-9ff9-795453b0cb31-font-weight:600;--preset-id-8029b647-e90f-41a9-ac1e-ac9d1070b547-font-family:"Cinzel",serif;--preset-id-8029b647-e90f-41a9-ac1e-ac9d1070b547-font-size:45px;--preset-id-8029b647-e90f-41a9-ac1e-ac9d1070b547-font-weight:600;--preset-id-2158d32c-ac5b-442d-a8e5-908549ec8fda-font-family:"Cinzel",serif;--preset-id-2158d32c-ac5b-442d-a8e5-908549ec8fda-font-size:23px;--preset-id-2158d32c-ac5b-442d-a8e5-908549ec8fda-font-weight:600;--preset-id-868d541b-1272-4042-b02b-1228162f5edc-font-family:"Cinzel",serif;--preset-id-868d541b-1272-4042-b02b-1228162f5edc-font-size:3vw;--preset-id-868d541b-1272-4042-b02b-1228162f5edc-font-weight:600;--preset-id-178e705a-1cde-439a-8e13-265c5471a965-font-family:"Arima Madurai",sans-serif;--preset-id-178e705a-1cde-439a-8e13-265c5471a965-font-size:45px;--preset-id-178e705a-1cde-439a-8e13-265c5471a965-font-weight:700;--preset-id-54c3c7a8-c1fb-448f-9b3e-14193da34f1b-font-family:"Lato",sans-serif;--preset-id-54c3c7a8-c1fb-448f-9b3e-14193da34f1b-font-size:31px}@media (max-width:479px){:root{--preset-id-deea1899-d459-4b37-8e0f-df596501c821-font-size:auto;--preset-id-868d541b-1272-4042-b02b-1228162f5edc-font-size:auto}}.breakdance .bde-header-builder-2255-100{background:linear-gradient(0deg,rgba(0,122,255,1) 0%,rgba(0,0,0,.8) 47.17948717948718%)}@media screen and (max-width:600px){.breakdance .bde-header-builder{--wp-admin--admin-bar--height:0px}}@media (max-width:1119px){.breakdance .bde-header-builder-2255-100 .bde-header-builder__container{flex-direction:column}}.breakdance .bde-div-2255-128{width:100%;align-items:center;text-align:center}.breakdance .bde-grid-2255-129{--bde-grid-items-per-row:1;--bde-grid-gap:5px}.breakdance .bde-grid>*{width:auto!important;height:auto!important}@media (max-width:1119px){.breakdance .bde-grid-2255-129{--bde-grid-items-per-row:3}}@media (max-width:1023px){.breakdance .bde-grid-2255-129{--bde-grid-items-per-row:2}}@media (max-width:767px){.breakdance .bde-grid-2255-129{--bde-grid-items-per-row:1}}.breakdance .bde-div-2255-130{width:100%;align-items:center;text-align:center}@media (max-width:1119px){.breakdance .bde-menu-2255-101 .breakdance-menu{--menu-background:#02356b;--link-background-color:#02356b;--link-border-color:#fff9ed}}@media (max-width:1119px){.breakdance .bde-menu-2255-101 .breakdance-menu{--link-color:#fff9ed}.breakdance .bde-menu-2255-101 .breakdance-menu{--links-gap:0;--dropdown-link-icon-display:none;--dropdown-link-description-display:none;--dropdown-links-gap:var(--gap-none)}.breakdance .bde-menu-2255-101 .breakdance-menu-list{align-items:stretch;background-color:var(--menu-background);display:none;flex-direction:column;left:var(--mobile-offset-x);max-height:var(--menu-max-height);overflow-y:auto;position:absolute;top:var(--mobile-offset-y,100%);width:100vw;z-index:var(--bde-z-index-menu-mobile)}.breakdance .bde-menu-2255-101 .breakdance-menu-list>.bde-button{border-top:var(--link-border);justify-content:var(--link-alignment);margin-left:0;padding:10px 15px}.breakdance .bde-menu-2255-101 .breakdance-menu-list>.bde-button .button-atom{width:var(--bde-button-width,100%)}.breakdance .bde-menu-2255-101 .breakdance-menu-list>:last-child{border-bottom:var(--link-border)}.breakdance .bde-menu-2255-101 .breakdance-menu-toggle{display:flex}}.breakdance .bde-button-2255-111 .bde-button__button{color:#fff9ed;font-family:"Cinzel",serif;font-size:24px;font-weight:500;text-decoration-color:#007aff}.breakdance .bde-button-2255-111 .bde-button__button .button-atom__text{text-decoration-color:#007aff}.breakdance .bde-button-2255-111 .bde-button__button{text-decoration:none;--fancyUnderlineColor:#007aff}.breakdance .bde-button-2255-111 .bde-button__button:before{content:""}.breakdance .bde-button-2255-111 .bde-button__button:before,.breakdance .bde-button-2255-111 .bde-button__button:after{position:absolute;width:100%;height:.075em;background:currentColor;top:110%;left:0;background-color:#007aff}.breakdance .bde-button-2255-111 .bde-button__button:before{content:"";transform-origin:100% 50%;transform:scale3d(0,1,1)}.breakdance .bde-button-2255-111 .bde-button__button:before,.breakdance .bde-button-2255-111 .bde-button__button:after{position:absolute;width:100%;height:.075em;background-color:var(--fancyUnderlineColor);top:110%;left:0}.breakdance .bde-button-2255-124 .bde-button__button{color:#fff9ed;font-family:"Cinzel",serif;font-size:24px;font-weight:500;text-decoration-color:#007aff}.breakdance .bde-button-2255-124 .bde-button__button .button-atom__text{text-decoration-color:#007aff}.breakdance .bde-button-2255-124 .bde-button__button{text-decoration:none;--fancyUnderlineColor:#007aff}.breakdance .bde-button-2255-124 .bde-button__button:before{content:""}.breakdance .bde-button-2255-124 .bde-button__button:before,.breakdance .bde-button-2255-124 .bde-button__button:after{position:absolute;width:100%;height:.075em;background:currentColor;top:110%;left:0;background-color:#007aff}.breakdance .bde-button-2255-124 .bde-button__button:before{content:"";transform-origin:100% 50%;transform:scale3d(0,1,1)}.breakdance .bde-button-2255-124 .bde-button__button:before,.breakdance .bde-button-2255-124 .bde-button__button:after{position:absolute;width:100%;height:.075em;background-color:var(--fancyUnderlineColor);top:110%;left:0}.breakdance .bde-button-2255-125 .bde-button__button{color:#fff9ed;font-family:"Cinzel",serif;font-size:24px;font-weight:500;text-decoration-color:#007aff}.breakdance .bde-button-2255-125 .bde-button__button .button-atom__text{text-decoration-color:#007aff}.breakdance .bde-button-2255-125 .bde-button__button{text-decoration:none;--fancyUnderlineColor:#007aff}.breakdance .bde-button-2255-125 .bde-button__button:before{content:""}.breakdance .bde-button-2255-125 .bde-button__button:before,.breakdance .bde-button-2255-125 .bde-button__button:after{position:absolute;width:100%;height:.075em;background:currentColor;top:110%;left:0;background-color:#007aff}.breakdance .bde-button-2255-125 .bde-button__button:before{content:"";transform-origin:100% 50%;transform:scale3d(0,1,1)}.breakdance .bde-button-2255-125 .bde-button__button:before,.breakdance .bde-button-2255-125 .bde-button__button:after{position:absolute;width:100%;height:.075em;background-color:var(--fancyUnderlineColor);top:110%;left:0}.breakdance .bde-button-2255-126 .bde-button__button{color:#fff9ed;font-family:"Cinzel",serif;font-size:24px;font-weight:500;text-decoration-color:#007aff}.breakdance .bde-button-2255-126 .bde-button__button .button-atom__text{text-decoration-color:#007aff}.breakdance .bde-button-2255-126 .bde-button__button{text-decoration:none;--fancyUnderlineColor:#007aff}.breakdance .bde-button-2255-126 .bde-button__button:before{content:""}.breakdance .bde-button-2255-126 .bde-button__button:before,.breakdance .bde-button-2255-126 .bde-button__button:after{position:absolute;width:100%;height:.075em;background:currentColor;top:110%;left:0;background-color:#007aff}.breakdance .bde-button-2255-126 .bde-button__button:before{content:"";transform-origin:100% 50%;transform:scale3d(0,1,1)}.breakdance .bde-button-2255-126 .bde-button__button:before,.breakdance .bde-button-2255-126 .bde-button__button:after{position:absolute;width:100%;height:.075em;background-color:var(--fancyUnderlineColor);top:110%;left:0}.breakdance .bde-button-2255-127 .bde-button__button{color:#fff9ed;font-family:"Cinzel",serif;font-size:24px;font-weight:500;text-decoration-color:#007aff}.breakdance .bde-button-2255-127 .bde-button__button .button-atom__text{text-decoration-color:#007aff}.breakdance .bde-button-2255-127 .bde-button__button{text-decoration:none;--fancyUnderlineColor:#007aff}.breakdance .bde-button-2255-127 .bde-button__button:before{content:""}.breakdance .bde-button-2255-127 .bde-button__button:before,.breakdance .bde-button-2255-127 .bde-button__button:after{position:absolute;width:100%;height:.075em;background:currentColor;top:110%;left:0;background-color:#007aff}.breakdance .bde-button-2255-127 .bde-button__button:before{content:"";transform-origin:100% 50%;transform:scale3d(0,1,1)}.breakdance .bde-button-2255-127 .bde-button__button:before,.breakdance .bde-button-2255-127 .bde-button__button:after{position:absolute;width:100%;height:.075em;background-color:var(--fancyUnderlineColor);top:110%;left:0}.breakdance .bde-div-2255-131{width:100%;align-items:center;text-align:center}@media (max-width:1119px){.breakdance .bde-menu-2255-132 .breakdance-menu{--menu-background:#02356b;--link-background-color:#02356b;--link-border-color:#fff9ed}}@media (max-width:1119px){.breakdance .bde-menu-2255-132 .breakdance-menu{--link-color:#fff9ed}.breakdance .bde-menu-2255-132 .breakdance-menu{--links-gap:0;--dropdown-link-icon-display:none;--dropdown-link-description-display:none;--dropdown-links-gap:var(--gap-none)}.breakdance .bde-menu-2255-132 .breakdance-menu-list{align-items:stretch;background-color:var(--menu-background);display:none;flex-direction:column;left:var(--mobile-offset-x);max-height:var(--menu-max-height);overflow-y:auto;position:absolute;top:var(--mobile-offset-y,100%);width:100vw;z-index:var(--bde-z-index-menu-mobile)}.breakdance .bde-menu-2255-132 .breakdance-menu-list>.bde-button{border-top:var(--link-border);justify-content:var(--link-alignment);margin-left:0;padding:10px 15px}.breakdance .bde-menu-2255-132 .breakdance-menu-list>.bde-button .button-atom{width:var(--bde-button-width,100%)}.breakdance .bde-menu-2255-132 .breakdance-menu-list>:last-child{border-bottom:var(--link-border)}.breakdance .bde-menu-2255-132 .breakdance-menu-toggle{display:flex}}.breakdance .bde-button-2255-133 .bde-button__button{color:#fff9ed;font-family:"Cinzel",serif;font-size:24px;font-weight:500;text-decoration-color:#007aff}.breakdance .bde-button-2255-133 .bde-button__button .button-atom__text{text-decoration-color:#007aff}.breakdance .bde-button-2255-133 .bde-button__button{text-decoration:none;--fancyUnderlineColor:#007aff}.breakdance .bde-button-2255-133 .bde-button__button:before{content:""}.breakdance .bde-button-2255-133 .bde-button__button:before,.breakdance .bde-button-2255-133 .bde-button__button:after{position:absolute;width:100%;height:.075em;background:currentColor;top:110%;left:0;background-color:#007aff}.breakdance .bde-button-2255-133 .bde-button__button:before{content:"";transform-origin:100% 50%;transform:scale3d(0,1,1)}.breakdance .bde-button-2255-133 .bde-button__button:before,.breakdance .bde-button-2255-133 .bde-button__button:after{position:absolute;width:100%;height:.075em;background-color:var(--fancyUnderlineColor);top:110%;left:0}.breakdance .bde-button-2255-138 .bde-button__button{color:#fff9ed;font-family:"Cinzel",serif;font-size:24px;font-weight:500;text-decoration-color:#007aff}.breakdance .bde-button-2255-138 .bde-button__button .button-atom__text{text-decoration-color:#007aff}.breakdance .bde-button-2255-138 .bde-button__button{text-decoration:none;--fancyUnderlineColor:#007aff}.breakdance .bde-button-2255-138 .bde-button__button:before{content:""}.breakdance .bde-button-2255-138 .bde-button__button:before,.breakdance .bde-button-2255-138 .bde-button__button:after{position:absolute;width:100%;height:.075em;background:currentColor;top:110%;left:0;background-color:#007aff}.breakdance .bde-button-2255-138 .bde-button__button:before{content:"";transform-origin:100% 50%;transform:scale3d(0,1,1)}.breakdance .bde-button-2255-138 .bde-button__button:before,.breakdance .bde-button-2255-138 .bde-button__button:after{position:absolute;width:100%;height:.075em;background-color:var(--fancyUnderlineColor);top:110%;left:0}.breakdance .bde-button-2255-139 .bde-button__button{color:#fff9ed;font-family:"Cinzel",serif;font-size:24px;font-weight:500;text-decoration-color:#007aff}.breakdance .bde-button-2255-139 .bde-button__button .button-atom__text{text-decoration-color:#007aff}.breakdance .bde-button-2255-139 .bde-button__button{text-decoration:none;--fancyUnderlineColor:#007aff}.breakdance .bde-button-2255-139 .bde-button__button:before{content:""}.breakdance .bde-button-2255-139 .bde-button__button:before,.breakdance .bde-button-2255-139 .bde-button__button:after{position:absolute;width:100%;height:.075em;background:currentColor;top:110%;left:0;background-color:#007aff}.breakdance .bde-button-2255-139 .bde-button__button:before{content:"";transform-origin:100% 50%;transform:scale3d(0,1,1)}.breakdance .bde-button-2255-139 .bde-button__button:before,.breakdance .bde-button-2255-139 .bde-button__button:after{position:absolute;width:100%;height:.075em;background-color:var(--fancyUnderlineColor);top:110%;left:0}.breakdance .bde-heading-2208-101{margin-bottom:25px}.breakdance .bde-post-meta-2208-105{margin-bottom:50px}.breakdance .bde-rich-text-2208-102{margin-bottom:75px}.breakdance .bde-grid>*{width:auto!important;height:auto!important}
Episode Lucky 13: Wherein Ahavah Ain Soph Takes Us to School
Ahavah Ain Soph
Self-initiated hermetic magician, educator, and musician Ahavah Ain Soph takes us on a wild ride all over the magickal map this week. Ahavah discussed his early forays into the Qabalah, his self-initiation into the hermetic tradition, his work within the DKMU, and his role as an instructor. From there, the conversation ranged from Gnosticism and chaos magick, environmental magick and "probability spheres", to the intersection of quantum and magickal theory and the future of magick. Ahavah also spoke about his music and musical hypersigils (of which he treats us to a sample of). If you're at all interested in outside-the-box magick, then you'll definitely want to give this a listen.

Ahavah Ain Soph's Soundcloud Page
[soundcloud url="https://api.soundcloud.com/tracks/319678397″ params="auto_play=false&hide_related=false&show_comments=true&show_user=true&show_reposts=false&visual=true" width="100%" height="120″ iframe="true" /]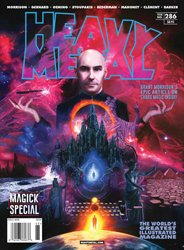 Before the interview, I discuss the new "Magick Special" issue of Heavy Metal, and specifically, Grant Morrison's chaos magick article. Below, you'll find the David Bowie vector art from page two that I mentioned, with a link to a site where you can purchase a print, if you're so inclined. Also below is a link to Jim Pavelec's "Ars Goetia" website, where you can view and purchase his paintings of Goetic demons. In the time since that interview was recorded, I've taken the helm on the Detroit City Node for Chelseanacht this year. It's sort of a two-part effort and similar workings are going to be going on all over the United States and elsewhere in the world. First, a mirror will be consecrated and then smashed into shards…well, that was the plan, initially, but then one of my colleagues who works at a school, found a bunch of small, heavy-duty safety mirrors that had been discarded, so we'll be using those. The mirrors will be placed throughout the city of Detroit in such a way that if you were to eliminate solid objects in the way and direct a laserbeam at one of them, the reflected laser light would create a gigantic Linking Sigil. Later, on July 17th, those involved will individually conduct rituals to turn these City Nodes into broadcast towers to pour 156/663 and 531 out into the world in unprecedented quantities. It's hoped that this will serve to initiate the masses and substantially weaken static reality.
Big, big changes are in the works for the Salvage Yard! Please continue to send your occult-related art, whatever form it may take, for inclusion in the Eldritch Vault. Let me know what you'd like to see in the future. This podcast is for YOU. Send your suggestions and/or comments to feedback@ancientwisdomsalvageyard.com or text/leave a voicemail at (313) 444-9776. Would you like to be a guest on the show or have a suggestion for a future guest? Let me know!
Love you guys.